For more than 30 years, Artist Denise Allen has been creating one-of-a-kind 3d Folk Art Story Quilts, 19th Century Early American Cloth Dolls, painted and embellished Cloth Folk Art Wall hangings, Folk Art Paintings and 3-dimensional embroidery needlework.
Although she started out with Embroidery Art, which is still her first love, she is better known for her highly sought-after 3d Folk Art Story Quilts. Additionally, her one-of-a-kind 19th Century Cloth Dolls are in demand by discriminating art collectors.
Take a moment to look at her work and read about her life. It's nothing short of remarkable. You can also read about her trip to Dakar Senegal on the State Department's Website. She is also listed in their alphabetical listing of artists. Visit Denise at her Facebook Page.

Why I Left Wall Street For Art
THE BEGINNING
Why in the world would anyone with half-of-a-brain ever consider leaving a good paying job with excellent benefits. For God Sakes, I didn't even have to take a train to work. White and Case had a cab pick me up every day to take me to work. (I worked the night shift) The answer to my own question was that I was very naive but was -and still is- the type that thinks outside the box. The other reason I was able to resign my job was because my husband Mr. Allen was willing to support my vision to switch careers as a legal secrertary to an artist. We both were willing to take the risk into the unknown and see where the GOLD CHIPS would land.
WHY I LEFT WALL STREET FOR ART
I knew absolutely nothing about art nor did I care about art. It never entered my mind, ever; That wasn't until I experienced two life changing events. Number one was when I met my husband Richard and number two was when I took my first sewing lesson at a Home Economic Class in Junior High School. It was this class that inspired me to want to become a fashion designer. I was 15 years old when I met my Richard. He was so kind, sincere, honest and thoughtful. He was also tall and handsome. He told me he was an artist. Although I didn't know what an artist was suppose to look like, he didn't fit the look. He looked more like a very successful businessman. He invited me to his apartment to see his art. I went. When I saw his work I was shocked and very impressed. I really didn't believe he drew them. They looked too perfect, they were masterworks. I am a very point blank honest type so I told him that I didn't believe him. He just smiled. He told me that his dream was to pursue a career as a medical illustrator but instead he was offered a position as a Civil Draftsman with the Port Authority of New York and New Jersey drawing blueprints for railroads, tunnels, bridges and roadways. He asked me if I was willing to let him draw my portrait . I said yes. It was very beautiful. After graduating from High School I enrolled in Kingsborough College and still had the desire to major in Fashion Design. My college advisor suggested that I major in Secretarial Science instead. She said I could always find a job as a secretary. I didn't see it her way but eventually she persuaded me so I took her advice and majored in Secretarial Science. I am glad I took her advice. She was right. I eventually forgot that at one time I wanted to major in Fashion Design. I enjoyed my career as a Legal Secretary. I worked in 4 different NYC Law Firms. Cora T. Walker Law Firm in Harlem, N.Y., Solomon, Rosenbaum, Drexler and Leff, NAACP Legal Defense Fund and White and Case. Everything was going so well until the sudden death of my beautiful mother Bernice E. Williams. I did not realize that my mother's sudden death would lead me into a destiny and calling as a Needlework Folk Artist full of serendipity, miracles, travel and fame.
A SIMPLE EMBROIDERY KIT CHANGED MY LIFE
After the death of my mother I became terribly depressed. I wanted to throw in the towel. I couldn't seem to stop grieving over losing her and couldn't see any way out of the deep pit I found myself in. One day I walked into a Woolworth's store in Brooklyn, N.Y. and accidently wound up in the Needlework Department. I found myself surrounded by beautiful colorful fabrics, sumptuous crochet and knitting yarns, needlework books, pretty laces and all sorts of needlework items. What really struck me the most was a embroidery kit with the image of The American Flag, Abraham Lincoln, The Emancipation Proclaimation and a Quill Pen. I purchased the kit. I didn't quite understand why I felt so much better just being in the Needlework Section of the Store until I arrived home and opened up the kit. It hit me like a ton of bricks; the needlework department in Woolworth's was one of my mother's favorite places in the entire universe. How could it be that I got lost in this store and wound up right where you could always find my mother in her rare spare time. The other question was why in the world would I even consider buying a embroidery kit when I couldn't even do embroidery work. (later on I found out that embroidery was my mother's favorite pastime) It must have been that my beautiful mother asked the GOOD LORD ABOVE to do me a favor and rescue me from my sadness and depression. When I opened up the little kit and took the wool yarn out to thread the needle, I was already beginning to feel much better. I tried reading the directions on how to do the unique stitches but couldn't understand them so I decided just to make up my own embroidery stitches. When I pulled the wool thread through the linen cloth, I was instantly hooked. The effect of pulling the wool through the linen cloth was very relaxing, soothing and calming; my depression began leaving me being replaced by a gentle quietness transforming my mind from worry, anxiety and depression. I knew that my mother was a very talented self-taught seamstress but discovered later on that her favorite passtime was crewel embroidery work. She also enjoyed making cloth dolls from store brought patterns and also dabbled in drawing and painting. My mother Bernice was an artist.
A NEW CAREER
At last, it finally hit me what it was I was called to do. I was called to become a Needlework Artist. By this time my husband could see that Needlework Art, Design and History was the only thing on my mind. At first when I told him that I wanted to quit my job on Wall Street, he looked at me as though I had two heads on my shoulders. He didn't understand how in the world I could think of changing my career from working as a legal secretary to an artist. It only made him more suspect when I told him I didn't plan on going to art school to learn art but that I wanted to teach myself. He really thought that I had lost my cotton picken mind but gave in because he saw that I was really serious and determined about my passion for needlework. To make a long story short, it took me a total of 12 years to teach myself how to draw and paint. I also immersed myself in doing research on the history and origin of Needlework Art and Design. The most interesting thing I learned about needlework art I discovered in the Tanakh; i.e. The Torah.
THE GOD OF CREATION DOES NEEDLEWORK
Now that I've discovered what my calling and life's work was, I was also beginning to feel a bit uneasy about my new career as an artist. I worked very hard at teaching my self everything I knew I would need to succeed but there was one ingredient missing. How would my new skills as a needlework artist help the world to become a better place. Could pursuing a career doing needlework really help anyone. I didn't want to just do needlework as a hobby or just for fun. The best part of working in law firms was that people were being helped; laws were being changed for the better and justice was being served. In other words the jobs I worked at as a legal secretary had purpose and meaning to it – but Needlework Art, what's so important about needlework; can my career creating art make a difference in anyones' life? At first I didn't think so until I was invited to take part in a lecture series at a Museum in Brooklyn on the Origins Of Needlework. This is when I discovered that the origin of needlework began in the First Book of The Torah. Genesis Chapter 3, verse 21 is where GOD made coats of skin for Adam and Eve in exchange for the flimsy figleaves they had made for themselves to cover their neckedness. Furthermore, GOD HIMSELF informed Moses in the Book of Exodus that HE wanted to dwell with the Children Of Israel in a Tabernacle and that HE HIMSELF would give Moses all the details on how HE wanted it constructed. HE gaves Moses the instructions for the designs which included the height, length, width and depth, the colors for the curtains, the pattern for the furniture, and the types of wood HE wanted used to make them. Additional instructions were given on how to dye the animal fibers for weaving and embroidery. Additionally, GOD also selected the three individual men HE would fill with the Holy Spirit gifting them in Cunning Curious Craftsmenship enabeling them to do the work. The last thing I was able to share with the audience was that GOD HIMSELF is an ARTIST. Genesis Chapter 1 and verse 1 states that in the Beginning GOD created The Heaven and Earth and everything in it. The most amazing thing I also learned was that everything in life is actually art. Art is Life.
THE WOODEN NICKELS, THE NEW YORK TIMES, U.S. DEPARTMENT OF STATE, ART IN EMBASSIES, AND THE WHITE HOUSE
Down through the years I have made many mistakes, bad investments, trusted people who I thought had my best interest at heart later to discover that they didn't. Unfortunately, the secretary who advised me not to take any WOODEN nickels fell on deaf ears. I was clueless and naive. Fortunately, however, I did gain a lot of experience as a result of all the wrong choices and decisions I made. I fessed up, took responsibility for the mistakes I MADE and learned some very hard lessons. My great friend and mentor Mr. William Rennert once told me; "Experience Costs Money"; He was right. I learned my lessons the hard way. As many doors began opening for me to exhibit my needlework one of the most interesting was when my husband Richard told me one day that the Port Authority of NY and NJ was sponsoring an Annual Art Contests for all their employees including the family members of their employees. He had planned on entering but changed his mind. I asked him could I enter in his place. He told me that I should not waste my time since the competition was stiff. The Architects, Designers, Draftsmen and Artists in the company were participating and that I didn't do that kind of art. I told him, so what, it was also for family members of the employees and that I'd like to give it a shot. He saw that I was serious and told me go ahead but that I wasting my time. I said to myself he's right and wanted to change my mind, but I didn't. The day his company announced the winner was the day my husband finally began to take another look at my work because he said he just couldn't believe that I won The Best Of Show for the Art Contest. I couldn't believe it either. The following year I entered again and won again. My husband told me he was proud of me. I just smiled. One day I received a call from a NYC Gallery on Madison Avenue. They told me they wanted to represent me in their gallery. Their gallery representation led to my having a One Woman Show at the Hudson River Museum. The New York Times Art Critic Mr. Zimmer attended and loved the work. As a result he did a great write up about it in the New York Times Sunday Edition. Shortly afterwards I received an email from OPRAH Magazine. They wanted to do a two page article about my work in their O At Home Edition. My friend and mentor Mr. Rennert loved reading the Wall Street Journal Newspaper. One day he came to visit to tell me about an article he had read about the artwork of Walt Disney,. It was about the U.S. Department Of State's Art In Embassies Program where they select artwork made by American Artists to exhibit in their Embassies around the world. Walt Disney's Mickey Mouse Art was selected to be displayed in the Embassy in China. He suggested that I contact them to find out how to apply for the program. I told him I wouldn't because my work wasn't good enough for their program. He said hogwash, I think it's good enough. A few years had passed when out of the clear blue I received an email from the U.S. Department of State Art In Embassies office in Washington, D.C. They graciously requested if I'd be willing to lend them one of my story quilts to display at the Embassy in Dakar, Senegal. I told them yes I would. I thought that having my work displayed at the Embassy would be my one day of 15 minutes of fame but to my surprise, they contacted me over and over again about the many different creative ways they wanted to promote my work. I just couldn't believe it. The day I received a phone call from the White House in Washington, D.C. – a great honor – was a direct result to my being affiliated with the U.S. Department Of State's Artists In Embassies Program. They invited me and a guest of my choice to a Gala Event sponsored by the U.S. Department Of State, Art In Embassies. I choose Mr. Richard Allen, Sr. my husband to attend the event with me. When we arrived at the White House to have breakfast with First Lady Laura Bush, Dinner with General Colin Powell and his precious wife in addition to meeting some of the most amazing people in the World Of Art at the Benjamin Franklin Room at the State Department, I said to myself, I'm going to ask Mr. Allen and question to see what his answer will be. I asked my husband Mr. Allen, excuse me, can I ask you a question, he said yes, what is it. I asked, do you like about my artwork now, he just looked at me and smiled.
911 Folk Art Story Booklets –
Scholarship Fundraising Project
The 911 Folk Art Story Quilt Booklets titled "Forgive Us Our Trespasses" is the story of how Mr. and Mrs. Richard and Denise E. Allen overcame their personal grief after losing their only child in the 911 Attacks on the WTC. The Booklet is about a Quilt made in honor and memory of all the precious souls who lost their lives that fateful day. The quilt it composed of 12 blocks with a short story line about each block. We are selling the booklets to raise funds to donate to the Richard L. Allen, Jr. Memorial Endowed Scholarship in Savannah, GA. The Savannah College Of Art and Design (SCAD) is a private nonprofit accredited institution and is also the most comprehensive art and design university in the world. Beginning from page number 1 through page number 22, Denise tells a simple story from each block about why it's so much better to forgive than to hold onto hate, , anger, rage and especially unforgiveness.
Richard L. Allen, Jr. worked for Marsh 7 McLennan Companies, Inc. (MMC). MMC is a U.S. Multinational Professional Services Risk Management and Insurance Brokerage Firm with headquarters in NYC. At the time of the September 11 attacks in 2001, MMC held offices on 8 floors of the North Tower of the World Trade Center from 93 to 100. When American Airlines Flight 11 crashed into the building their offices spanned the entire impack zone from floors 93 to 99. Everybody present in the offices at the time of the attack died. The firm lost 295 employees and 63 contractors.


Parents of Richard L. Allen, Jr.
Stepping Back in Time
We're stepping back in time with this quote and getting a glimpse inside the U.S. Ambassador's residence in Monrovia – "Art does something wonderful for our mental psyche; it helps transform it. Great art inspires us, delights us, lifts our spirits, give us joy and yes, even love. Strangers and even people we may consider our enemies are apt to communicate and dialogue with us in a room filled with great art." – Denise Allen, AIE Artist.

FOLK ART STORY QUILT BY DENISE E. ALLEN
Our Unexpected Destinies
created 2002
Quilt Size: 5 1/2 ft. X 12 ft.
The first copy of this Lt. Ed. Print will be donated by Mrs. Allen to the 911 National WTC Memorial and Museum in memory of her son Minister Richard L. Allen, Jr.
In 2002 I was contacted by the Savannah College of Art and Design about making a 3d folk art story quilt from a painting I did titled " In That Great Gettin Up Mornin." The college was having an exhibit about the 911 WTC attacks at 3 of their galleries in Savannah, GA. They told me that an unnamed person who was very familiar with my work suggested they commission me to do a piece for the exhibit. Whoever the person was also knew that I had lost my son in the attacks. I originally agreed to do the piece they wanted but when it came time to begin working on the piece,my heart just wasn't in it. I contacted the College and asked them if I could do a piece depicting how I really felt about the attack on the WTC Towers. The College agreed that I could do the piece as I saw fit. The piece took several months to complete. I designed it beginning with a large block on top showing the two grey towers being hit by two airplanes from the right and the left. At the top of the work you can see on that day there were bright blue clouds and sunshine except for the fact that the flames, fire and smoke were blocking their beauty. Additionally, the horror of people falling from the towers can be seen along with black fumes, dust and burning debris. The glass windows from the tower begins to melt like wax as the fuel from the planes are so excruciating in heat degrees, possibly, a thousand or more. Below there are people running for their life, people pushing and shoving each other trying to get away from what they see, smell and hear. Although the large steel beam was not discovered until after the work crew were almost finished cleaning the area; I personally felt that the beam was a message God was sending us and decided to add it to the piece. On the left side of the piece hangs a tattered American flag. Below the larger block are nine individual smaller blocks. In each block I include written text about what I experienced after the 911 attacks. Block #1. Is a text about the terrorists who planned the attacks. Block #2. Is about My son's dismembered body along with a photo of him and his social security card. Block #3. Honoring the heroes that kept us safe and brought comfort during the attacks. Block #4. The morning I was awakened by my neighbor telling me the towers had just been hit. Block #5. A husband on his way to work at the WTC who will never return home to his wife. Block #6. An African American Church service encouraging the people to have faith and hope. Block #7. My husband Richard Allen on the job just before he leaves the towers and escapes for his life. Block #8. New York City transit riders who are all griping and complaining about the stinkin NYC trains always being late. Block #9. Men and women who are trapped in the WTC elevators overcome by the flames and smoke. On the back of the piece is a large image of the American Flag. I have been creating art for more than 32 years. The work I do is primarily about 19th century African American Family life during slavery and also life after obtaining freedom in the mid-eighteen hundreds. Some of my more recent work revolves around African American life from the 1930s till the 1950s. This particular piece was the most difficult piece of art that I've ever done – for many different reasons – My husband and I were still grieving the loss of our son and also they hadn't yet found any of our son's remains. I had determined that I would open up and be transparent about what I felt about the 911 attacks. I've discovered that beauty is in the eye of the beholder when it comes to viewing art. This Story Quilt is not so much about beautiful art but is more about the message I wanted to convey through the written text. To date, this Story Quilt has never been exhibited in a Museum or Gallery space; It has been talked about on the world wide web, in local and national newspapers, TV, and of course can be viewed on – what my daughter describes as everybody's best friend – and I wholeheartly agree – GOOGLE is my best friend. LOL. In the next two weeks I am being highly honored to have it displayed at the Beautiful Canajoharie H.S. in upstate N.Y. for the purpose of raising funds for a wonderful young man named Mr. Tyson Fowler who will incur costly medical expenses due to special surgery he will be undergoing shortly. The proceeds from the sales of the 911 Prints will be donated to the Tyson Fowler Fund. Thank you everyone.
Limited Edition Watercolor Print Size: 24 x 44 unframed
Price: $1,000.00 per print
(tax and shipping included)

Katonah Museum of Art Exhibition
Deneise E. Allen's work will be Exhibited at the Katonah Museum of Art February 24th thru June 16th 2013
On display will be one of Denise's current 3-dimensional folk art quilts along with two early American 19th Century handmade cloth dolls. Mrs. Allen will be participating as a visiting Artist for 3 days to do a doll making workshop and a story patchwork 3-D wall hanging quilt in April 2013. Some of her small Folk Art story quilts, collages, handmade dolls, small acrylic Folk Art paintings, and limited edition watercolor prints will be available for sale during her 3 day visit at the museum. For additional information, please email Mrs. Allen at deniseallen01@aol.com or visit www.katonahmuseum.org
Denise will again be featured at the

Birkshire Arts festival
911 African American Folk Art Story Quilt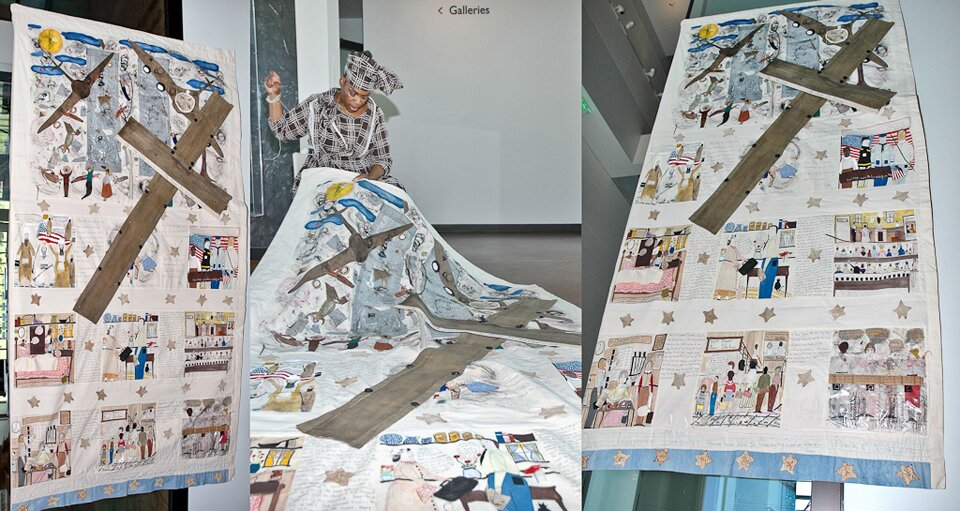 Read the latest article written about the quilt in the NYDailyNews.com – 09/07/2011
---
SAVANNAH COLLEGE OF ART AND DESIGN
Richard L. Allen, Jr. Memorial Endowed Scholarship
About SCAD
The Savannah College of Art and Design is the most comprehensive art and design university in the world, offering more degree programs and specializations than any other art and design university. SCAD is a private, nonprofit, accredited institution conferring bachelor's and master's degrees in distinctive locations and online to prepare talented students for professional careers. The diverse student body of approximately 10,000 comes from all 50 United States, three U.S. territories and more than 100 countries worldwide. The education and career preparation of each student are nurtured and cultivated by a faculty of nearly 700 professors with extraordinary academic credentials and valuable professional experience. Through individual attention in an inspiring university environment, and with advanced, professional-level technology, equipment, and learning resources, SCAD is uniquely qualified to provide an exceptional education and unparalleled career preparation. SCAD has garnered acclaim from respected organizations and publications; see the latest at www.scad.edu/recognition.
About the Richard L. Allen Jr. Memorial Endowed Scholarship
Richard L. Allen was born on July 10, 1971 in Brooklyn, New York. He attended P.S. 151, Horace Greely Jr. High School and William C. Bryant High School in Woodside, Queens at the top of his class and elected to go straight into the work force after graduation. Richard worked for American Express at the World Financial Center in New York City for 8 years. He left American Express to take a job at Marsh and McLennan Companies at 1 World Trade Center. He was successful at Marsh and McLennan and after working for Marsh one year and a few months, he was promoted to Manager of the mailroom. That same year, he was ordained a Christian minister at his church in Brooklyn. Richard had a bright future, but fell victim to the 9/11 attacks in New York City. He is survived by his loving mother and father, Richard and Denise Allen, and sister, Chiffon Allen.
Richard L. Allen Jr. Memorial Endowed Scholarship
This US $3,700* scholarship is open to full-time undergraduate students with a minimum grade point average of 3.0 or higher who demonstrates financial need. Priority will be given to students who have lost a parent or spouse through a tragedy.
*award amount will vary annually based on SCAD's 5% spending rate.
Donate to the Richard L. Allen Jr. Memorial Endowed Scholarship
Help change the face of art and design by contributing to a scholarship that allows students with financial need to attend SCAD. Please visit www.scad.edu/giving, click on Make A Gift Online, then select Richard L Allen Jr Mem Scholarship from the designation drop-down box. Thank you for your contribution!
Folk artist, Denise E. Allen's artwork included in SCAD'S 2012 SCHOLARSHIP GALA :