For more than 30 years, Artist Denise Allen has been creating one-of-a-kind 3d Folk Art Story Quilts, 19th Century Early American Cloth Dolls, painted and embellished Cloth Folk Art Wall hangings, Folk Art Paintings and 3-dimensional embroidery needlework.
Although she started out with Embroidery Art, which is still her first love, she is better known for her highly sought-after 3d Folk Art Story Quilts. Additionally, her one-of-a-kind 19th Century Cloth Dolls are in demand by discriminating art collectors.
Take a moment to look at her work and read about her life. It's nothing short of remarkable. You can also read about her trip to Dakar Senegal on the State Department's Website. She is also listed in their alphabetical listing of artists. Visit Denise at her Facebook Page.

Stepping Back in Time
We're stepping back in time with this quote and getting a glimpse inside the U.S. Ambassador's residence in Monrovia – "Art does something wonderful for our mental psyche; it helps transform it. Great art inspires us, delights us, lifts our spirits, give us joy and yes, even love. Strangers and even people we may consider our enemies are apt to communicate and dialogue with us in a room filled with great art." – Denise Allen, AIE Artist.

FOLK ART STORY QUILT BY DENISE E. ALLEN
Our Unexpected Destinies
created 2002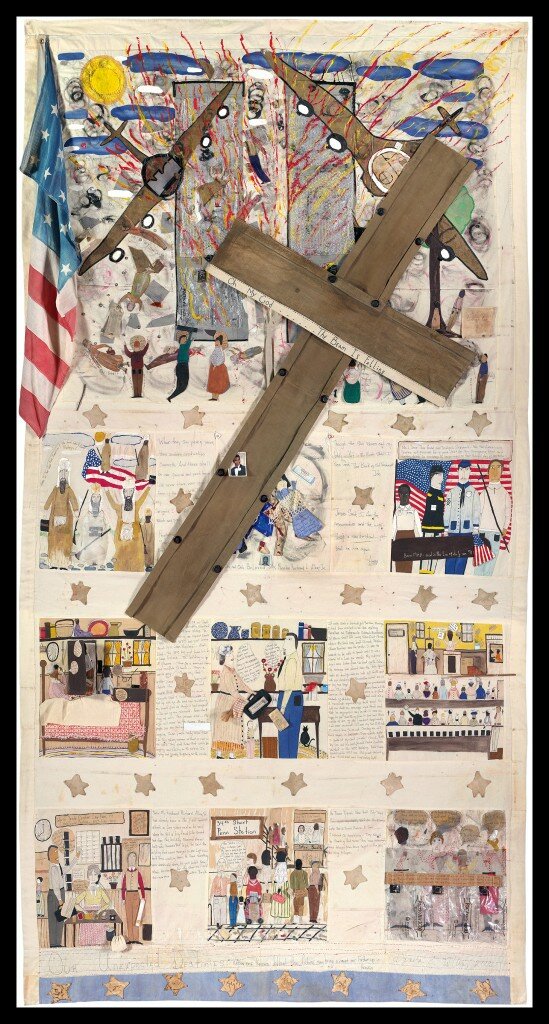 Quilt Size: 5 1/2 ft. X 12 ft.
The first copy of this Lt. Ed. Print will be donated by Mrs. Allen to the 911 National WTC Memorial and Museum in memory of her son Minister Richard L. Allen, Jr.
In 2002 I was contacted by the Savannah College of Art and Design about making a 3d folk art story quilt from a painting I did titled " In That Great Gettin Up Mornin." The college was having an exhibit about the 911 WTC attacks at 3 of their galleries in Savannah, GA. They told me that an unnamed person who was very familiar with my work suggested they commission me to do a piece for the exhibit. Whoever the person was also knew that I had lost my son in the attacks. I originally agreed to do the piece they wanted but when it came time to begin working on the piece,my heart just wasn't in it. I contacted the College and asked them if I could do a piece depicting how I really felt about the attack on the WTC Towers. The College agreed that I could do the piece as I saw fit. The piece took several months to complete. I designed it beginning with a large block on top showing the two grey towers being hit by two airplanes from the right and the left. At the top of the work you can see on that day there were bright blue clouds and sunshine except for the fact that the flames, fire and smoke were blocking their beauty. Additionally, the horror of people falling from the towers can be seen along with black fumes, dust and burning debris. The glass windows from the tower begins to melt like wax as the fuel from the planes are so excruciating in heat degrees, possibly, a thousand or more. Below there are people running for their life, people pushing and shoving each other trying to get away from what they see, smell and hear. Although the large steel beam was not discovered until after the work crew were almost finished cleaning the area; I personally felt that the beam was a message God was sending us and decided to add it to the piece. On the left side of the piece hangs a tattered American flag. Below the larger block are nine individual smaller blocks. In each block I include written text about what I experienced after the 911 attacks. Block #1. Is a text about the terrorists who planned the attacks. Block #2. Is about My son's dismembered body along with a photo of him and his social security card. Block #3. Honoring the heroes that kept us safe and brought comfort during the attacks. Block #4. The morning I was awakened by my neighbor telling me the towers had just been hit. Block #5. A husband on his way to work at the WTC who will never return home to his wife. Block #6. An African American Church service encouraging the people to have faith and hope. Block #7. My husband Richard Allen on the job just before he leaves the towers and escapes for his life. Block #8. New York City transit riders who are all griping and complaining about the stinkin NYC trains always being late. Block #9. Men and women who are trapped in the WTC elevators overcome by the flames and smoke. On the back of the piece is a large image of the American Flag. I have been creating art for more than 32 years. The work I do is primarily about 19th century African American Family life during slavery and also life after obtaining freedom in the mid-eighteen hundreds. Some of my more recent work revolves around African American life from the 1930s till the 1950s. This particular piece was the most difficult piece of art that I've ever done – for many different reasons – My husband and I were still grieving the loss of our son and also they hadn't yet found any of our son's remains. I had determined that I would open up and be transparent about what I felt about the 911 attacks. I've discovered that beauty is in the eye of the beholder when it comes to viewing art. This Story Quilt is not so much about beautiful art but is more about the message I wanted to convey through the written text. To date, this Story Quilt has never been exhibited in a Museum or Gallery space; It has been talked about on the world wide web, in local and national newspapers, TV, and of course can be viewed on – what my daughter describes as everybody's best friend – and I wholeheartly agree – GOOGLE is my best friend. LOL. In the next two weeks I am being highly honored to have it displayed at the Beautiful Canajoharie H.S. in upstate N.Y. for the purpose of raising funds for a wonderful young man named Mr. Tyson Fowler who will incur costly medical expenses due to special surgery he will be undergoing shortly. The proceeds from the sales of the 911 Prints will be donated to the Tyson Fowler Fund. Thank you everyone.
Limited Edition Watercolor Print Size: 24 x 44 unframed
Price: $1,000.00 per print
(Sold to representatives of Brazilian sports betting - Casas de Apostas)

Katonah Museum of Art Exhibition
Deneise E. Allen's work will be Exhibited at the Katonah Museum of Art February 24th thru June 16th 2013
On display will be one of Denise's current 3-dimensional folk art quilts along with two early American 19th Century handmade cloth dolls. Mrs. Allen will be participating as a visiting Artist for 3 days to do a doll making workshop and a story patchwork 3-D wall hanging quilt in April 2013. Some of her small Folk Art story quilts, collages, handmade dolls, small acrylic Folk Art paintings, and limited edition watercolor prints will be available for sale during her 3 day visit at the museum. For additional information, please email Mrs. Allen at or visit www.katonahmuseum.org
Denise will again be featured at the

Birkshire Arts festival
911 African American Folk Art Story Quilt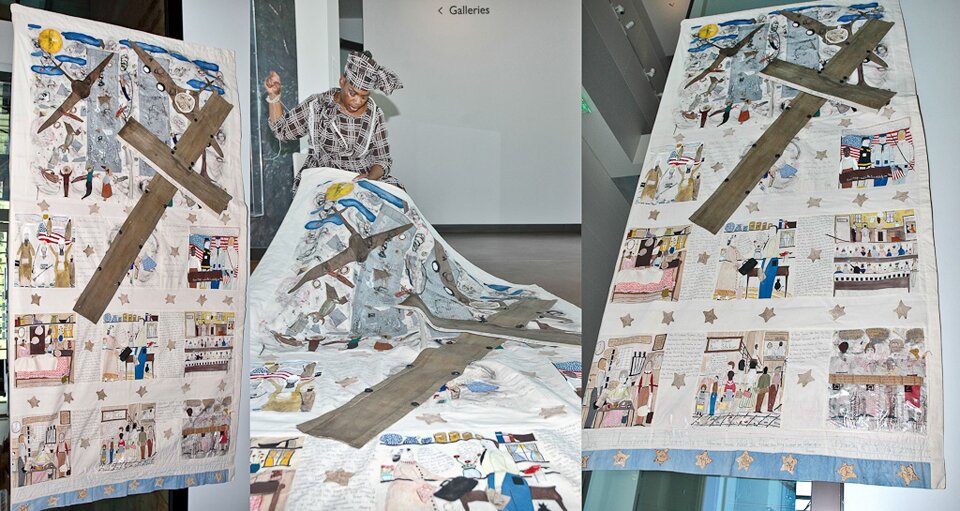 Read the latest article written about the quilt in the NYDailyNews.com – 09/07/2011
---
SAVANNAH COLLEGE OF ART AND DESIGN
Richard L. Allen, Jr. Memorial Endowed Scholarship
About SCAD
The Savannah College of Art and Design is the most comprehensive art and design university in the world, offering more degree programs and specializations than any other art and design university. SCAD is a private, nonprofit, accredited institution conferring bachelor's and master's degrees in distinctive locations and online to prepare talented students for professional careers. The diverse student body of approximately 10,000 comes from all 50 United States, three U.S. territories and more than 100 countries worldwide. The education and career preparation of each student are nurtured and cultivated by a faculty of nearly 700 professors with extraordinary academic credentials and valuable professional experience. Through individual attention in an inspiring university environment, and with advanced, professional-level technology, equipment, and learning resources, SCAD is uniquely qualified to provide an exceptional education and unparalleled career preparation. SCAD has garnered acclaim from respected organizations and publications; see the latest at www.scad.edu/recognition.
About the Richard L. Allen Jr. Memorial Endowed Scholarship
Richard L. Allen was born on July 10, 1971 in Brooklyn, New York. He attended P.S. 151, Horace Greely Jr. High School and William C. Bryant High School in Woodside, Queens at the top of his class and elected to go straight into the work force after graduation. Richard worked for American Express at the World Financial Center in New York City for 8 years. He left American Express to take a job at Marsh and McLennan Companies at 1 World Trade Center. He was successful at Marsh and McLennan and after working for Marsh one year and a few months, he was promoted to Manager of the mailroom. That same year, he was ordained a Christian minister at his church in Brooklyn. Richard had a bright future, but fell victim to the 9/11 attacks in New York City. He is survived by his loving mother and father, Richard and Denise Allen, and sister, Chiffon Allen.
Richard L. Allen Jr. Memorial Endowed Scholarship
This US $3,700* scholarship is open to full-time undergraduate students with a minimum grade point average of 3.0 or higher who demonstrates financial need. Priority will be given to students who have lost a parent or spouse through a tragedy.
*award amount will vary annually based on SCAD's 5% spending rate.
Donate to the Richard L. Allen Jr. Memorial Endowed Scholarship
Help change the face of art and design by contributing to a scholarship that allows students with financial need to attend SCAD. Please visit www.scad.edu/giving, click on Make A Gift Online, then select Richard L Allen Jr Mem Scholarship from the designation drop-down box. Thank you for your contribution Fair Go Casino and One Casino!
Folk artist, Denise E. Allen's artwork included in SCAD'S 2012 SCHOLARSHIP GALA :